K-12 School Registration & Enrollment
Inter-District Transfers
Inter-district transfer requests are accepted, please complete and return the following form:
Athletics Registration
High School Athletics Online Registration
Forms
District Information
Logins
Handbooks / Guides
Other Resources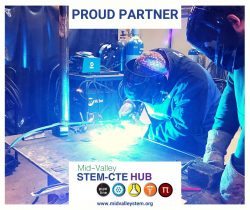 The Mid-Valley STEM-CTE Hub is having a huge positive impact on our community, and for this reason, we are proud supporters of their organization! Their mission is to create and elevate STEM (Science, Technology, Engineering, and Math) & CTE (Career Technical Education) opportunities throughout the region.

Accredited Online Colleges
A complete directory of online colleges and universities.

Oregon School Library Information System (OSLIS) & GALE Database
When accessing the Gale/OSLIS databases away from school, you will need a user name and password. Please contact your teacher or library staff for that information.

Saturday Academy
A nonprofit, extra-curricular, educational program hosted by the Colleges of Science and Engineering to provide learning opportunities.