Menus
The Sweet Home School District Nutrition Services department has begun using a new online menu system called Nutrislice that will allow you to access nutritional information from our menus. To access this new menu system please click on the Nutrislice logo below. We will also continue to post the old style menus for the next couple months.

** Please note that menus are subject to change due to supply chain issues.**
---
MealTime Online
The Sweet Home School District Nutrition Services department provides appealing, nutritious meals for students while they are in school. All of our meals meet the daily requirements for nutrient standards for each age group as required by the USDA.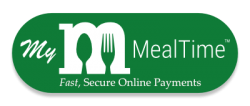 Pay for your student's lunches online at mymealtime.com.
Free and Reduced-Price Meal Program at Jr. High and High School. To qualify your student, you must fill out a Free/Reduced applicaiton and turn it in to your school secretary.
Free Breakfast served district-wide daily.
All elementary schools are participating in the Community Eligibility Program funded by USDA, which allows every child to eat breakfast and lunch free of charge.
Fresh fruits and vegetables available on each salad bar at each school, district-wide.
Locally and school grown produce is used whenever available.
Whole grain rich bread products served with all meals.
Variety of low fat and nonfat milk offered with each meal. Nonfat chocolate milk offered lunch only.
100% juice and fresh fruit offered with each breakfast.
Reduced sodium products and recipes utilized whenever possible.
Meal Prices
Breakfast: Free District wide
Lunch: Free District wide
Extra Milk: $ .40
Reduced Meal Program: Free
Sweet Home Meal Charging Procedures
---
Contact
Amber Walker, Nutrition Services Director
1641 Long St., Sweet Home, OR 97386
Phone: 541-367-7149
Fax: 541-367-7630
Sarah Hicks, Head Cook/Secretary
Phone: 541-367-7149
---
Nutrition Information
Our lunches are designed around the Traditional meal pattern with Offer vs. Serve. Five menu components are offered at each meal: 1-meat/meat alternate, 2-bread/grain, 3-liquid milk, 4-fruit and 5-vegetable. Each child must take from 3 to 5 of the offered components to obtain a reimbursable meal. As required by the USDA, each student must choose at least ½ cup fruit or vegetable, (or a combination of both) with both breakfast and lunch.
Our Nutrition Services department is self supporting. Reimbursements from ODE for meals served are the major contribution to our sustainability.
Meals are prepared by skilled staff in our central kitchen at the high school and delivered to five satellite schools for lunch in heated units and cold carts. We employ the "scratch" method of cooking combined with some of the students' favorite prepared foods. Our meals strive to meet the new USDA meal requirements, especially the use of whole grains and an emphasis on fresh vegetables and fruits. All bread items are whole grain rich, or 100% whole wheat. We use whole grain pasta and whole grain rice in our recipes. We have a full time baker who researches and creates nutritious whole grain cookies, breads, and desserts for our students.
Fresh fruits and vegetables are served with every lunch. Our school district began offering salad bars to all schools in 2002. These are all freshly prepared in our central kitchen each day. We serve a variety of green leafy vegetables, red-orange, dark green, and other vegetables. Legumes are offered on the salad bar in the form of salads, or served plain to add to green salad, or used in "scratch type" casseroles. We also rely on regular USDA deliveries of quality frozen and canned fruits and vegetables. Vegetables are low sodium canned or frozen IQF. Fruits are canned and frozen in juice or extra light syrup, or frozen IQF. Quality dried fruits are also available.
Free and Reduced-Price Lunch Program
The Free and Reduced-Priced Lunch Program is confidential, simple to access online, and can help both your budget and your child's school. Sweet Home School District Elementary Schools are qualified to participate in a program funded by USDA called the Community Eligibility Program. Applications are no longer necessary for your elementary age children (K-6). All of these children receive free lunch and breakfasts each school day.
In addition, all middle and high school students in the district receive free breakfasts each day. We believe our students learn better, and their concentration is retained when they are not hungry.
At the middle school and high school, students may eat breakfast when they get to school in the morning. Those that might have gotten to school too late, can pick up a free breakfast later, during the morning break. This popular concept is our Grab-n-Go breakfast option. Only one free breakfast per student is allowed each day. Students are welcome to take a 2nd breakfast, but will be charged accordingly.
Applications
Pick of the Month
Procurement Plan
FFVP – USDA's Fresh Fruit & Vegetable Program
In 2008, Sweet Home School District became involved in pioneering USDA's Fresh Fruit & Vegetable Program. FFVP is sponsored by the USDA and designed to expose children in our community schools to a variety of fresh fruits and vegetables. The fresh produce must be served at a time such as recess, (not when lunch or breakfast is being served) or in the classroom during the day. These schools qualified for this program based on their free and reduced percentages. Children that participate in FFVP at recess are better able to concentrate in class and are not hungry between meals at school. Currently we have three elementary schools who have qualified to participate in this program: Foster Elementary, Holley Elementary, and Hawthorne Elementary. USDA is not able to accept any new schools to the program, making these original schools very fortunate. Students receive a fresh snack of vegetables and fruits prepared daily in our kitchen.
Summer Lunch Program
The Summer Lunch Program has been operating in our community for many years, providing free meals for many hungry children. We operate 4-6 different feeding sites in and around Sweet Home. Our hard working staff will serve lunches each week day except for July 4th (holiday) and Oregon Jamboree weekend, resulting in approximately 9400 meals over the summer.
Farm to School Program
Nutrition Services support and promote our schools local gardens by agreeing to purchase their usable fresh produce for our salad bars. This helps to sustain these gardens by providing funding to buy seeds and other supplies needed to continue the gardens. The garden at the middle school has been faithfully tended by teachers, students and dedicated staff. Other school have limited gardening space, but grow plant in a green house setting or garden boxes. This is an area we hope to be able to expand. We also encourage healthy choices by participating in the Pick of the Month (published by Samaritan Health Services), featuring a different fruit or vegetable each month. We purchase locally grown produce and products as they are available.
Leftover Food Program
In 2010, we were advised by the Oregon Department of Education, that we could give our "leftover" food items (foods that cannot be reused by our kitchen) to local churches that provide meals for people that are homeless, and/or in tough economic circumstances. These churches help us by having volunteers come to the school three days a week to package and weigh the leftovers to be taken and used for the evening meal at their facility. It's a win-win situation for both entities. They receive much needed donations of food, and we don't have to dispose of it.
Denim & Pearls Catering
We also operate a successful catering program for the community of Sweet Home: Denim & Pearls Catering. Our kitchen is licensed as a restaurant and we are inspected as such.
We have established a creditable reputation in the community for our services. Skilled staff members prepare food for a variety of events such as weddings, funerals, class reunions, company parties and school functions. All profits generated from the catering directly benefit our students. We use these funds to purchase and improve quality of food for our children. Please contact the Nutrition Services department for more information.
Wellness Program
The Sweet Home School District is committed to instruction that promotes healthy eating through nutrition education, serving healthy and appealing foods at district schools, developing food-use guidelines for staff and providing healthy physical activities.
---
Cafeteria Inspection Reports